PARKLAND WALKERS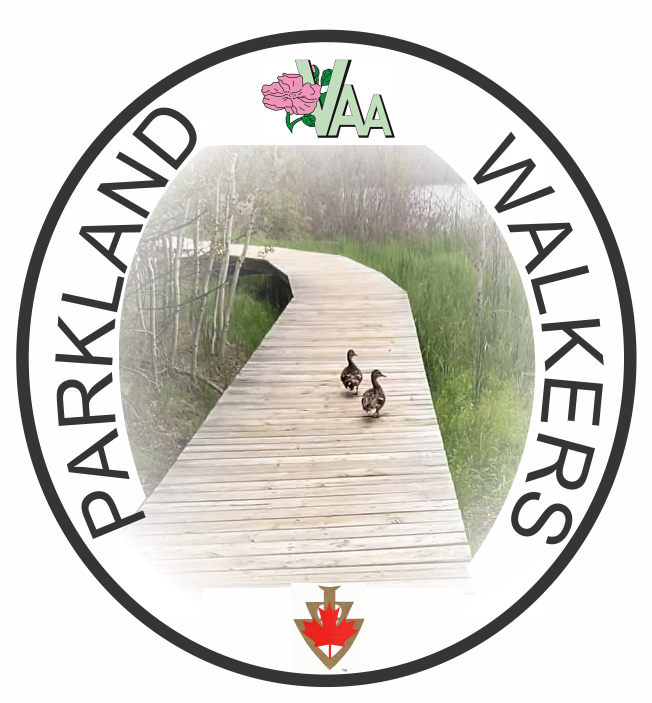 Parkland Walkers changed their name in 2020 from the Devon Discovery Walkers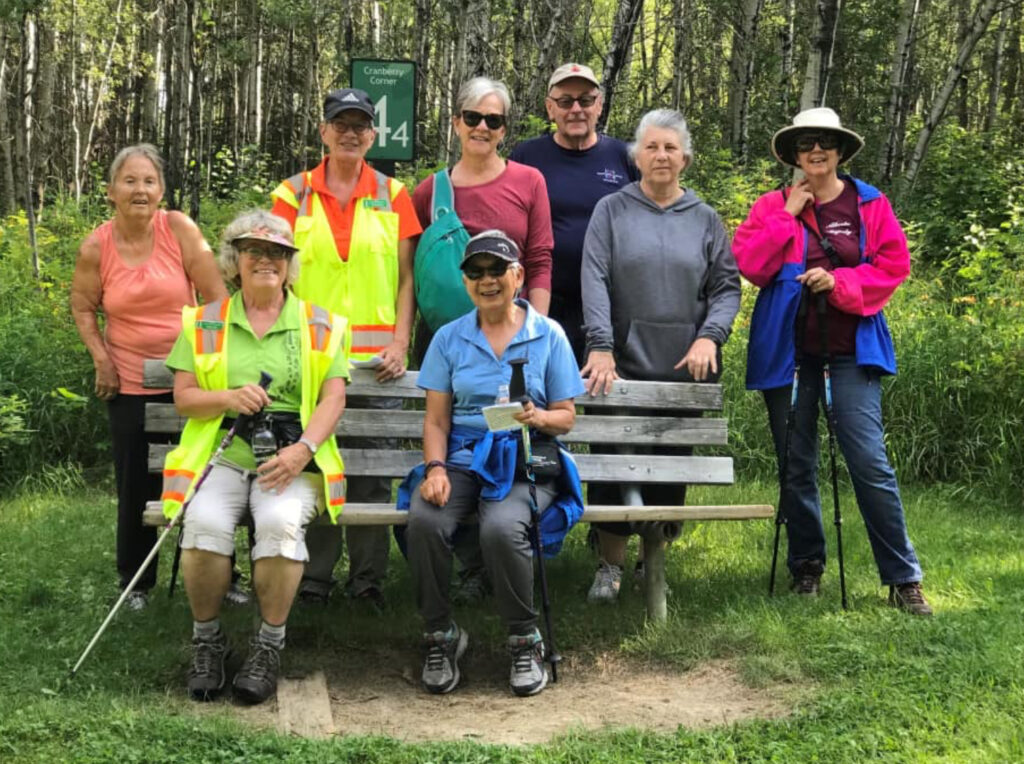 The year was 1992. The Devon Discovery Walkers were proud to add their name to the list of Volkssporting clubs in Alberta. At that time, there were clubs in Barrhead, Buffalo Lake, Calgary, Camrose, Cold Lake, Gibbons, Innisfail, Millet, St. Albert, and Wetaskiwin. There were only 31 days with scheduled events including 6 guided walks, 20 volksmarches (all-day events), 5 bike events and 2 swim events. Most of the clubs offered medallions for an additional $1.50. There was a mere 5 year round events available in all of Alberta! On a CVF-sponsored walk in a neighborhood community, a group of walkers on a rest stop discovered that they all lived in the area around Devon. They became friends and decided to form their own club in Devon. With the help of the good offices of the Town of Devon, who paid initial expenses, the Devon Discovery Walkers was formed. Our first walk was held in the summer of 92, which was a great success. Since then we have held as many as 14 events per year.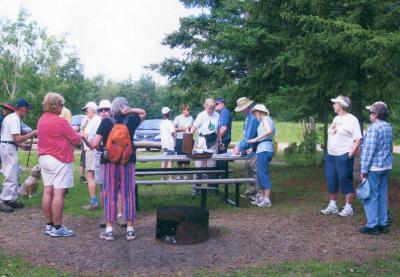 Some of the more seasoned walkers will have good memories of events sponsored by the Devon Club skiing in the valley with Bob and Billie Collins, and following Norm Fraser as he led the walks along the boardwalk at Clifford E. Lee Bird Sanctuary. Devon's PT, the Wayne Smith Memorial Walk, honours our first Trail Master, who passed away at the age of forty-nine years. Wayne Smith, an accomplished athlete who competed in the Boston Marathon, participated in many volkssport events. Remember those yummy scones baked by Billie? The Devon Discovery Walkers has hosted the VAA Convention a few times; in 2012 coinciding with the Club's 20th Anniversary.
What about the terrific walks from Jasper to Lake Louise (8 days from August 19-26) in 1995 organized by Grace Newman and Bob and Billie Collins, and then in 2000, the Millennium Mountain Meander from Lake Louise to Jasper (8 days from June 17 – 24), organized by Bob and Billie Collins? These long walks, sponsored by the VAA, consisted of 25 km to 34 km per day. For many years, the Devon Discovery Walkers held walks in the Chickakoo Recreation area, Leduc, Stony Plain, and Spruce Grove from the Log Cabin. The Club even sponsored a PT walk and ski at the Strathcona Wilderness Centre in 1994.
Our other PTs are in West Edmonton Mall and Stony Plain. The Mall walk has attracted much support from other clubs in Alberta and is also frequently used by Canadian and U.S. visitors. This walk, which offers a 6, 7, or 10 km route, gives all participants a place to walk during inclement weather and when the trails are icy.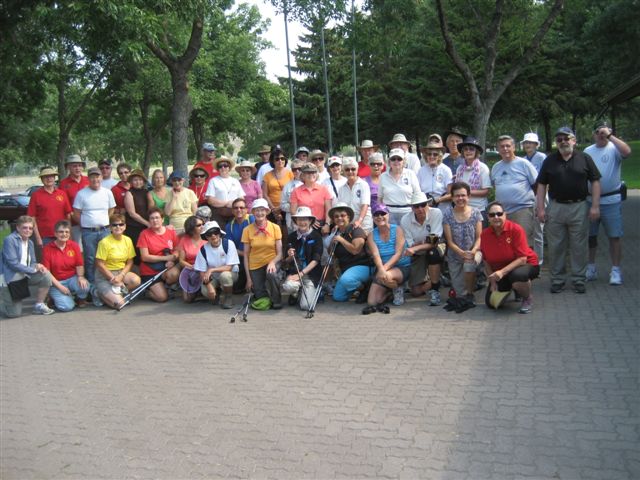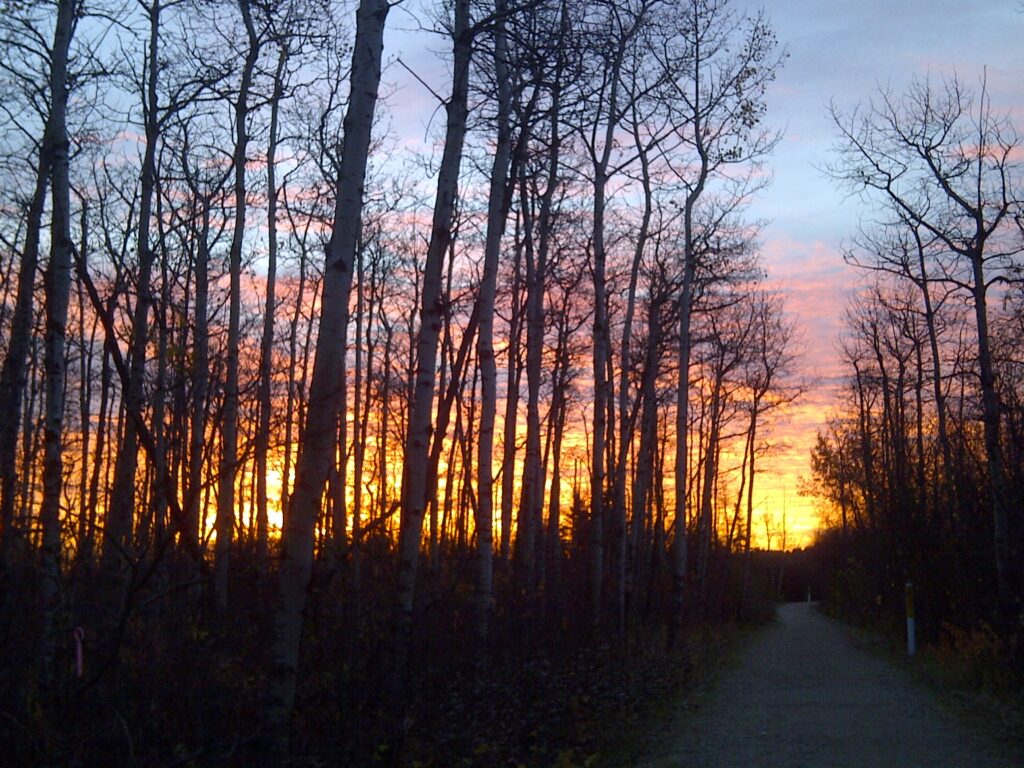 The club has a small membership with about six core members who provide the leadership for the club.  Financially, the club is in good shape with most of our walks being well attended by walkers coming from other provincial clubs. We try to hold our walks to take advantage of good natural trails in and around Devon.  Our first Permanent Trail  (PT) walk was laid out in Devon along the North Saskatchewan River Valley and in the winter, this trail became used as our PT ski – perhaps, the first in Canada. We also started Tuesday evening walks in Alberta, which had great success and quickly became popular with other clubs, chiefly because it seems to attract people who rarely walk on weekends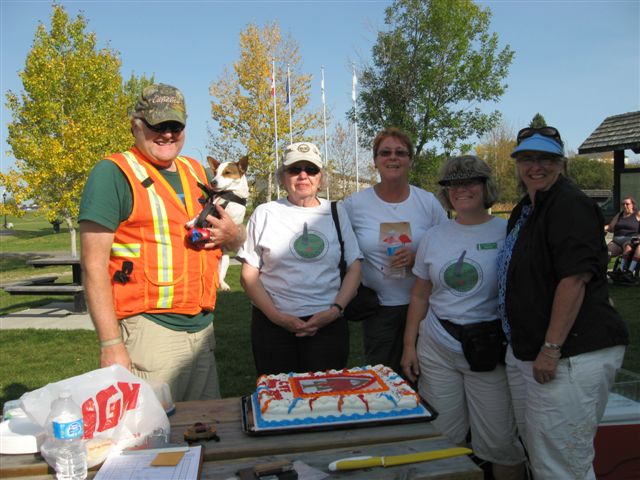 Current members are from Devon and surrounding areas such as Wetaskiwin, Sherwood Park, Stony Plain, and Edmonton. Our members have been active in supporting the VAA, with Glenda Palmer holding the position of President from 2017-2019, Bob Collins and Irene Miller holding the position of Sanction Coordinator between 1998-2001, Irene also held Event Calendar Editor, Secretary and Booklet Publisher. Bob and Billie Collins, Bob Duncan, Phyllis May, Glenda Palmer and Irene Miller have been honoured with long-service and/or outstanding service recognition from the VAA and CVF. Bob and Diane Duncan have operated many fine walks under the Wainwright Walkers Volkssport Club and Lake Isle Pacers (both now defunct). To become a member simply print a copy of our application, see above.