We hope to answer all the questions you might have in this section. If your question isn't answered go to "Contact the VAA" and email or call us with your question.
GENERAL QUESTIONS
Why do I have to sign the registration sheet?
The registration sheet is an insurance waiver absolving us of liability if you are hurt on the walk. Everyone must sign before they start the walk whether you participate in the award program or not. (There is an option with some clubs to sign an annual Waiver, contact club to find out if they use one)
Can I go to other club walks and get credit in my achievement books ?
Yes, you can participate in any IVV event around the world. Information on these walks is available from your club president. Also check out the "Affiliations" section on this web site
What is the cost of the walks?
Clubs within Alberta charge $2.00 for event walks and PTs. Your first five walks are always free.
What does PT  mean?(Known as YRE in the US)
PT means Permanent Trail. They are self guided walks that have been set up in various locations throughout the province of Alberta, Canada and other IVV countries. Some PTs are only open on a seasonal basis, so check the dates before setting out to do them. They are all available between dawn and dusk whenever the start point is open. In Alberta, if they are designated "Online Registrations" (formerly called Main Ins) download the Online Registration Form and walk instructions from this website to register. Be sure you sign the waiver on the registration form before you begin your walk. You complete the route following the written directions/map at your own pace. PTs are a great way to see the area. They are also sometimes done as a group, check with a local club to see if any are scheduled.
What is a Guided Walk (GW)?
Participants meet at a specified place and all start at the same registration time. A member or two of the host club usually leads the group as a guide. A set of written directions may also be provided.
What is a Map Walk (MW)?
Participants meet at a specified place and all start at the same registration time. Maps and/or written directions are provided and volkssporters proceed along the route at their own pace.
What is a Volksmarch (VM)?
Generally the event has a longer registration time so not everyone starts at once. The route is either marked and/or directions are provided and participants proceed along the route at their own pace making sure they are back before the stamping desk closes.
How do I pay for the walks?
You can pay cash in person at all walk registrations or some clubs charge an annual flat rate fee (a great option if you plan on doing their walks often) check directly with the club. For Online Registration (formerly called Mail Ins) you can pay by mail or E Transfer, as indicated on the Online Registration Form.
Why should I join a club?
The motto of Volkssporting is "FUN, FITNESS AND FRIENDSHIP" in a non-competitive atmosphere. Joining a club is a great way to stay fit and healthy or just to meet new friends. The walks take you to new areas that you would probably never visit and enjoy on your own.
What does Rating mean under the description?
The following two-part rating system was designed to indicate to walkers an estimation of the difficulty of a trail for a CVF-sanctioned walk in Canada. The sponsoring club decides what rating to assign the trail(s).
PART 1 – INCLINE
1 – very little hill or stair climbing
2 – some moderate hill or stair climbing
3 – some significant hill or stair climbing
4 – a good deal of significant hill or stair
climbing
5 – many steep hills or high altitude trails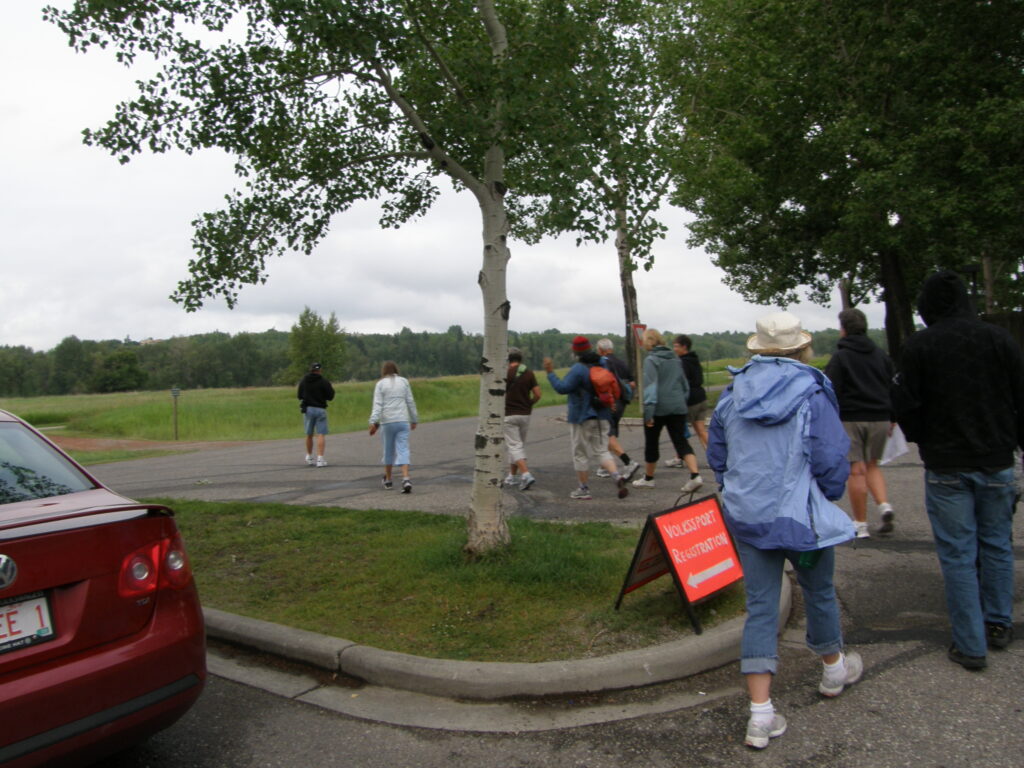 PART 2 – TERRAIN
A – almost entirely on pavement, probably
suitable for baby strollers
B – a significant part of the walk takes place
on well-groomed trails with very little more
difficult terrain
C – a significant part of the walk takes place
on somewhat difficult terrain (rocky, rooted
paths)
D – a significant part of the walk takes
place on very difficult terrain
E – the majority of the walk takes place
on very difficult terrain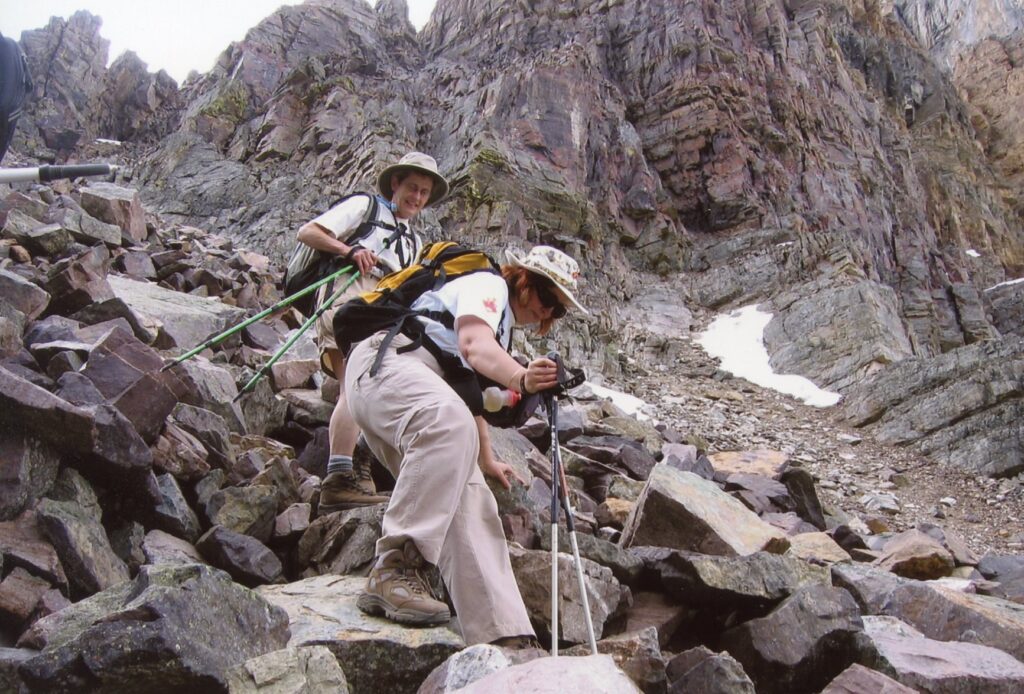 IVV ACHIEVEMENT AWARD PROGRAM AND RECORD BOOKS
What are those books being sold at the walks?
The IVV Individual Achievement Award Program was introduced to encourage participation in non-competitive sports events under the rules and regulations of the International Federation of Popular Sports (IVV). There are two categories of awards — DISTANCE WALKED and EVENTS COMPLETED. Having a record of your achievements adds greatly to the experience, encouraging you to meet personal goals. The first books are given out for free in Alberta once the 'Five Free Stamp Sheet' is completed.
What are distance books?
Distance books are to record the kilometres you have walked. Route distances can range from 5 to 42 km marathons or even longer walks. Every walk that you do can be recorded in the book every time you walk, even if it is a walk you have done before.
What are event books?
Event books are to record the events that you participated in. Event walks can only be stamped twice in the year.
Is participation in the award program free?
No, to participate you must purchase record books and pay a registration fee at each event. New walkers are entitled to a "Five Free Stamp Sheet" which is later attached to a record book.
Where can I buy these books?
Books can be purchased at most walks, ask the person in charge if books are available to purchase. Books cost $5 each. In Alberta, the first Event and Distance book are also supplied free, check with the person in charge of the walk to see if they are available. All club Presidents in Alberta have a supply.
What do I do when the books are full?
When the first book is full, which is 10 stamps for the first Event book and 500 km. in the Distance book, the books are sent to the Awards Coordinator. When all the stamps are verified, the books will be returned with a "Passport" and certificate. You must purchase another Event and Distance book to carry on with the program.
Where do I send my completed books?
Marion Boom
CVF Awards Coordinator
42 Billingham Crescent
Ottawa ON, K2K 2T7
Where can I find out more about these books?
You can read the instructions on the back of the books or talk to the club President. Visit www.walks.ca for guidelines on submitting your books and what to do if you make a mistake or lose your books.
What if I forget my books?
Insert sheets are available at the walks for recording that walk if you have forgotten your books. The insert sheet is only for temporary use and excessive use is not permitted. Insert sheets alone will not be processed and are only accepted when stapled into a valid IVV Record Book.
What if I run out of room in my book before I complete the level?
If you do a large number of shorter distance walks you can run out of space in the Distance Book. If this occurs an Insert sheet can be used for a few walks or a larger 'Extra Distance Sheet' can be obtained from your club.
PROGRAM QUESTIONS
What locations do I need to complete Walk Alberta?
The list that is in the Walk Alberta Booklet that you are using is what is required to complete the program.
Any places that are listed in your booklet that no longer have a walk can be crossed off. For further details check out the Special Programs tab on this website.
What is the Alberta Challenge Program.
The Alberta Challenge program was changed in 2017 so you only need 10 PTs to complete the Platinum level. If you have an older form the remaining lines are left blank. For further details check out the Special Programs tab on this website.